Fast efficient roller shutter door repairs in Wrexham and surrounding areas.
Repairs - Service - Installations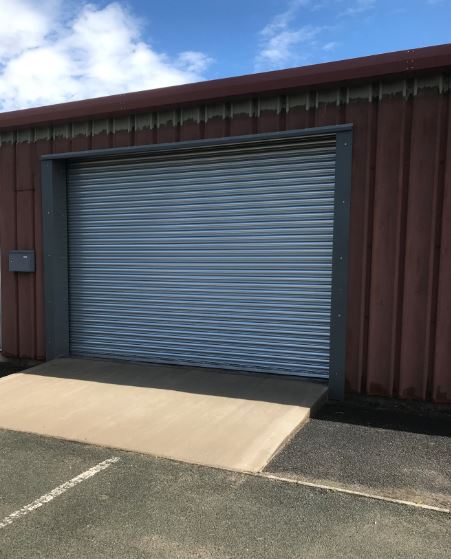 All types of roller shutter doors repaired

Phone now for a fast response.
We also offer a first class installation service.
More info.
Please phone for a free site visit & quotation. Contact us.
For Roller Shutters in Wrexham
Installations from start to finish
We can install a roller shutter doors from start to finish. We can start with a wall, create a space in that wall and install a roller shutter that suits you and your business. We'll finish the job to include cladding and it will look as if the roller shutter has always been there. Contact us for details.
Phone
to book your repair now!
07793 822480

Roller Shutter Door Repairs in Wrexham
Wrexham Roller Shutters are an experienced maintenance company offering a fast efficient roller shutter door repair service throughout Wrexham and surrounding areas. We strive to get to you as quickly as possible and provide an emergency call out service. Our work is to the highest standard and our service second to none.
Roller Shutters are a front-line form of security and as such they are often damaged. Whether this is from vandalism, a break-in attempt or even extreme weather, the result is the same, a roller shutter door in need of repair.
Accidental damage can also occur and it is often the case that you only realise that your roller shutter door is damaged when you either open up or are closing for the day - either way we can get to you fast.
In most cases we can repair your roller shutter on the spot. If not we will undertake emergency repairs to secure your premesis and do what needs to be done as soon as possible, normally the next day.
If you need roller shutter door repairs in Wrexham or surrounding areas then please contact us now.
For installations - click here.
Roller Shutters Doors - Wrexham
We can also provide bespoke joinery, building maintenance and all types of blast cleaning services. Please click on the link to our sister companies below:-
© Copyright Wrexham Roller Shutters
Wrexham Roller Shutters - Llay Hall Ind.Est. Cefn y Bedd, Wrexham LL12 9YG - Tel: 07793 822 480